It's that time of year for you to begin or restart your fitness journey.
As we embark on 2020, I wanted to look back at some of my personal fitness highlights in 2019.
Many of these highlights could be posts entirely on their own because of the experiences I had or the people I encountered along the way, but for the sake of looking ahead and not dwelling in the past, these are meant to be highlights.
Hopefully reading through these will inspire you to set a fitness goal this week, this month, or this year.
DDP Yoga Transformation Summit
I attended my first DDP Yoga Transformation Summit in March at the DDP Yoga Performance Center in Smyrna, Georgia.
I'd been to the PC about four years earlier when I was in Atlanta for a conference, but I was more than happy to make it the focus of my travel this time.
Some of my experiences included:
Meeting some of the DDPY transformation stories who've inspired millions around the world, such as Arthur Boorman, Vance Hinds, and Kristin Nava! Also meeting Graham & Sylvia O'Quinn, Adam Hipps, Jen Joliceur, and my future DDPY mentee, Tom Walent!
Teaching on stage at the DDPY PC! I've seen it so many times on the app that it was cool to be in that spot in front of a room full of people.
Seeing the Accountability Crib, where DDP helped turn around the lives of Jake The Snake Roberts and Scott Hall. Shoutout to Lacey for holding a book club there for DDP's book, Positively Unstoppable.
Attending Southern Honor Wrestling! Many of the DDPY team also were involved with the Southern Honor Wrestling event we went to for an outing about 30 minutes outside Atlanta. Plus, I got to meet Raven, Caleb Konley, and Zane Riley, whose podcast "How Did This Get Booked!?!" I listen to frequently.
Meeting Cody Rhodes & Justin Roberts. The American Nightmare and other members of the fledgling AEW team stopped in for two reasons: one, because Cody said this was the most positive people he'd ever been around; and two, so Cody could surprise one of the DDPY team members with a spot on an upcoming AEW event for all of his behind-the-scenes work.
Seeing Yoga-Doc and his band cover 80s heavy metal songs. Enough said!
Going to Zoo Atlanta! I make it a point to stop into as many zoos as I can on the road. Plus, Zoo Atlanta is one of only three zoos in the U.S. that houses giant pandas.
Check out photos from the Summit here>>
Lincoln Presidential Half-Marathon
One of the ultimate tests of fitness, in my eyes, has always been running a marathon.
I've always wanted to do a marathon, so I dipped my toes in the water last year thanks to the support of my girlfriend, an ultramarathoner.
We ran the 13.1 miles of the Lincoln Presidential Half-Marathon in Springfield on a gorgeous day that was chilly to start but warmed up as the sun rose in the sky.
I'm still debating whether I want to give a full marathon a shot after this.
Until I do, please enjoy the shaky selfie footage.

All Out Workshop
DDP frequently hosts a workshop in conjunction with a major wrestling event, and AEW's blockbuster follow-up to 2018's All In was just that.
I booked tickets for Emily and I as soon as I found out about the All Out workshop in Schaumburg and made sure her schedule was also clear. It also worked out well for us that one of my cousins was getting married in another Chicago suburb the next day, so we made a weekend of it.
The All Out workshop was the most attended workshop in DDP Yoga history, beating out a workshop held earlier in 2019 and one I attended in 2015, whose record stood for years.
A highlight for me here was being invited up on stage with Dallas and the other instructors in the facility.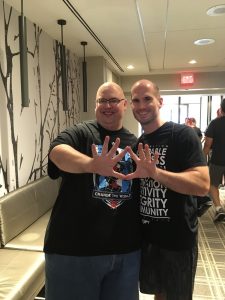 I also got to see my friend Tim (aka Regal), who's been taking better control of his life through DDPY and who I hadn't seen in months.

Competing In Two Open Competitions
First up was the Summer Soul Open, which is an annual functional fitness (i.e., CrossFit) competition. I held my own in the scaled division, coming in 2nd place for this August/September event.
The second was the CrossFit Open, held now in October/November.
For reasons I won't delve into here, my scores were unable to be logged on the official CrossFit leaderboard.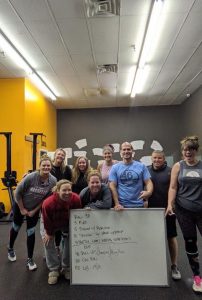 However, I'm proud to say in my first CrossFit Open—I didn't know what it was the first year I did CrossFit and had injuries the following two years—I completed all but one of the workouts in the scaled division.
All 10 of these workouts combined left me depleted, but they were a great way to push me to a level I don't often tap into.
Busting Old Personal Records
I broke some PRs this year. The ones I'm most happy about were the ones that I couldn't bust for more than a year. Here they are…
+10 pounds to my strict press
+5 pounds to my power clean and squat clean
+10 pounds to my bench press
+5 pounds to my front squat
+5 pounds to my power snatch after a year and a half
Awarded A New Black Belt
The last big fitness highlight of the year came for me in December.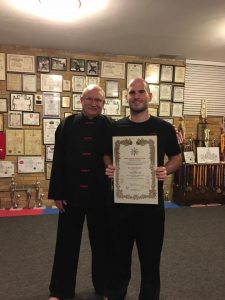 My tai chi chuan instructor, Steve Aldus, presented me with a black belt certificate in the arts of tai chi chuan, Hsing-in chuan, and baguachang.
I've been attending his class for nine years and recommend it to anyone who's interested in martial arts.
This year, I plan to write more in-depth about my fitness journey so you can see what I'm up to and how I'm feeling.
Maybe you'll find some inspiration for a fitness goal you've been putting off or have decided to chase!