I help people live more active lifestyles through my fitness services. I'm a certified DDPY instructor and certified personal trainer through the American Council on Exercise (ACE).
Whether you take one fitness class a week or are a weekend warrior, I can help you improve your mobility, strength, and endurance.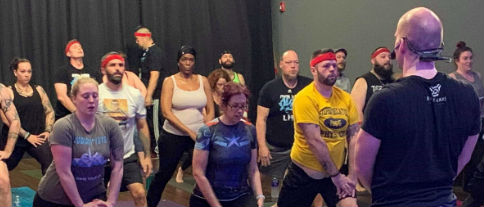 MY FEATURED OFFERINGS
My DDPY classes are exclusive to a 100-mile radius of the Peoria area! In addition to DDPY, I also offer limited 1:1 personal training.
I've been motivated by teaching and helping others in their fitness pursuits for nearly 20 years, and my proven track record shows it.
I am the only active certified DDPY Level 1 instructor close to Peoria—you'd have to travel to Chicago, Memphis, or Ohio to find another one.
I've taught and practiced martial arts since 2003. In that time, I've achieved a 2nd-degree black belt in karate, and a 1st-degree black belt in tai chi chuan, Hsing-i chuan, and baguachang. I've been inducted into the USA Martial Arts Hall of Fame 3 times from 2014-2016.
The comprehensive DDPY certification requires 100 hours of practice, an exam, and a review by DDP and the Yoga Doc, Dr. Craig Aaron. But not every DDPY instructor is a certified personal trainer. I have both certifications.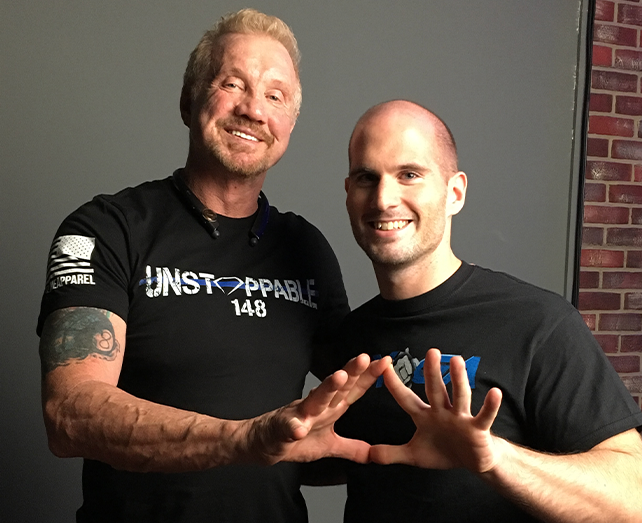 WHAT CLIENTS SAY
Kevin C.
The best. Very comprehensive training techniques, and understands how to put things in layman's terms better than anyone I've ever worked with. Highly recommended.
Tiffany S.
DDP Yoga is a good workout. Adam's personal training and martial arts background enable him to provide great instruction at all fitness levels. He frequently provides reminders about proper form and breathing technique. I like that he mixes the workouts up from one session to the next. It keeps things interesting.
Nichole B.
Adam made sure my form was in point while lifting heavy weights, and he kept me motivated to keep pushing when I wanted to give up. Adam changed things up for each of my workouts during our 60-Day Challenge to keep me from being bored. I highly recommend him!
Dawn D.
Hands down one of the most motivational coaches I have encountered! Adam is professional, fun, and wants everyone to reach their fullest potential. Thanks to his encouragement & positive demeanor I found flexibility I never knew I had. I have fibromyalgia & osteoarthritis. DDP Yoga has been the only workout routine that didn't aggravate my joints. That's the God's honest truth! You cannot go wrong with Adam!
Glori D.
Adam is an amazing trainer!! Would recommend him to anyone no matter your age, needs or physical condition. Not only did I lose inches in our 60 days together, but the best part is I gained muscle tone!! You should see my arms now 🙂 Adam always listened to my needs and worked with me so that I could reach my goal!! He mixed up my workouts to make them fun, challenging, and exciting. Adam had me do training I never thought I could do—not only did I do them, but I mastered them!! Adam is patient, kind, challenging & very knowledgeable trainer!
Delaine D.
Love DDP Yoga! A workout that really makes a difference! Has helped my back issues!! Adam is very knowledgeable and provides variations for adapting if you have back or knee issues, as well as adaptions if you want to take the stretch or move up a notch.
Chad L.
My wife convinced me to try this with her. I was skeptical at first, thinking it would be all stretching. But this class works all parts of the body, and Adam gives you alternatives moves so you can make it as easy or as difficult as you want.
Becca S.
Adam's DDP Yoga class rules! Not only is he a genuine dude, he really cares about the quality of the workouts he instructs and what our personal goals are. By attending class for just 1 hour a week for 3 months, I've noticed my body has toned up, my energy levels have increased, and my overall mental clarity is better. This class gives me something to look forward to every week!
AFFILIATE LINKS
Use my affiliate links below to purchase anything you may need for my classes, such as yoga mats, gear, or a heart rate monitor. The small percentage I earn from these sales goes directly back into supporting this site and each class I teach!
LATEST ARTICLES
Read my latest articles in health and fitness!